Screening and risk assessment service
onlineSTS.net is a service of DYNAMARINe, addressed to Tanker Operators and Commercial Managers who perform clearances on nominated vessels for STS Operations in order to ensure vessel's SUITABILITY. The innovation of the service is attributed to the following factors:
OSIS database is the only database world-wide hosting performance data of STS Stakeholders.
STS best practices and STS Knowledge are shared amongst the clients (members).
Service Providers are documentary audited from onlineSTS.net on behalf of the users of their Services.
It offers Bench-marking Performance Indicators among the members.
Complicated logistics for statutory and industry compliance have been simplified.
STS risk assessment is based on facts rather on experience!
It offers a RISK estimation tools for underwriters!
Aim of the service
The aim of this service is the risk management in STS Operations by utilizing risk assessment techniques and sensible exercise of due diligence in all safety aspects of the operation. This approach eventually leads to safer STS operations, improves ship owner's reputation in the maritime industry and consequently increases his commercial competitiveness.

The proposed methodology takes into account the commercial aspects of STS as well as the contractual obligations of ship owners according to their charter parties. For this purpose our proposed methodology is structured in such a way that the clearance procedure of participating vessels is accelerated while the work load of shore personnel is reduced. It worth mentioning that the systematic approach towards increased safety, as proposed, does not necessarily lead in the rejection of less safe operations, on the contrary, introduces feasible ways and realistic measures towards achieving acceptable safety standards.
Risk assessment - how does the service work
Our Screening and risk assessment service works in 4 simple tasks as described below: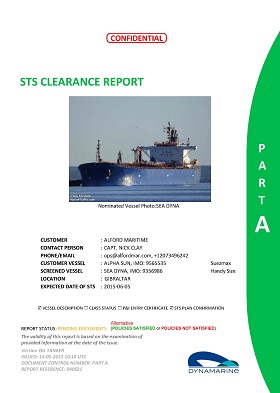 Clearance Phase (Part A)
---
Description
Responsible Person

Operators

When

During Participating Vessel Nomination by charterers/ Cargo owners

Task

To Clear nominated vessel on the basis of company's STS Policies

Requested Documents for nominated vessel:

Q88, Recent Class Status, P&I entry, IOPP Form B, Confirmation of STS Plan

Completion time by DYNAMARINe:

30-50 minutes 24x7
---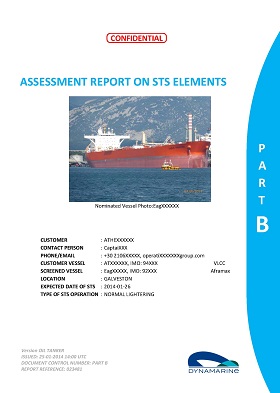 Risk Assessment Phase (Part B)
---
Responsible Person

Operators or Vessel Master

When

2-4 days prior the STS operation

Task

To issue the Risk Assessment Report

Requested information:

STS Date, STS Location, Service Provider, Discharging Vessel, actual displacements

Completion time by DYNAMARINe:

10-15 minutes 24x7
---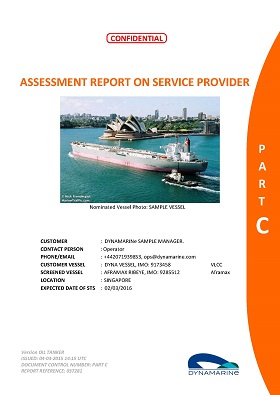 Service Provider and POAC phase (Part C)
---
Responsible Person

DYNAMARINe

When

2-4 days prior the STS operation

Task

To issue the Service Provider quality assurance and POAC qualification

Requested information:

POAC and Service Provider questionnaires. DYNAMARINe will arrange to collect this info

Completion time by DYNAMARINe:

10-15 minutes 24x7
---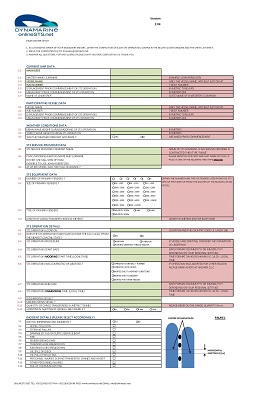 Post Feedback (Assessment form)
---
Responsible Person

Master

When

1-2 days after the completion of the STS operation

Task

To register the STS feedback and records at OSIS

Requested information:

Completed STS feedback assessment form
---
Benefits for ship owner
DYNAMARINe has been developing onlineSTS.net since 2009. Careful development, justified by statutory rules and regulations related to commercial and trading issues as well as providing an assurance to ship owner's liability in STS operations were amongst our objectives.
The benefits of this service for Tanker Operators and ship owners are outlined within the following:
Statutory benefits
STS plan compliance

Compliance with IMO Manual on Oil Pollution section I, paragraph 6.2.1.2;
Compliance with latest OCIMF/ICS guidelines paragraph 2.5

Record keeping and assessment

Records are being maintained within the system and they are assessed as per ISM - TMSA Practices
Commercial benefits
STS Policies are being developed within the organization with consideration to:

Vessel screening
Safety preparedness
Commercial issues
Assessment of records
Reputation

Due diligence practices

The process of the service records all due diligence procedure and the owner can prove that he does so

Self assessment procedures

A self-assessment procedure on STS POLICIES describes the compliance of your organization
Performance & TMSA benefits
Benchmarking

STS Knowledge from all participating members at onlineSTS.net spreads through the screening process.

KPI's

Various KPI's describing STS Performance is available within the system.

STS knowledge becomes a company asset

Through the assessment of records, STS Knowledge is being gathered into one system and is available to all shore operators and fleet vessels as circulars.

Work load of shore personnel

Workload of shore personnel is being reduced during the screening procedure.
Assessment of records are automatically being inserted into the system and reviewed by our operators
The service is available 24x7 for shore operators and their Masters..

24x7 support

We provide support to your operators and Masters 24x7
Benefits for charterer/ cargo owner
The screening and risk assessment service applies for charterers/ cargo owners who wish to exercise their due diligence (on the basis of SAFE BERTH clause) with respect to both participating vessels. Our reporting scheme for charterers provide ship compatibility information and risk mitigation measures along with STS location statistics with respect to past reported incidents, vessel and STS Service Provider performance data.
Description of onlinests.net and the screening service
onlineSTS.net service offers functional assessment tools of all STS elements and participating parties (ships, STS service providers, POACs, etc) that are nominated by charterers to ship owners. Thus owners may exercise their due diligence to the best extend and conditionally or unconditionally accept the participating vessels for the STS Operations. Furthermore useful tools and consultancy services are offered towards the masters of the vessels and the shore operators throughout the STS Operation from the clearance process up to the final assessment and extract of KPI's. Basic principal of the service is our rapid response time since in most cases, ship owners are provided with limited time to revert with their clearance.
Ship owners' policy tuning
Policy tuning is an essential "Decision Making" on the basis of each Ship Owners' Policies as those are being implemented in the Vessel Screening Procedure. Policy tuning is essential in order to identify the parameters associated with nominated vessels in STS Operations and define the implemented measures towards safety and encountered risk mitigation. DYNAMARINe team has the knowledge and available techniques to support you in your Policies. Our Bench-marking analysis and past STS Policy experience aims to enhance your reputation with low cost tools.
OSIS database
The Online STS Information System includes a unique database with assessments of Stakeholders, STS locations and incident related information. The data presented allow to the members of onlineSTS.net to exercise their due diligence to the best possible extent and develop Risk assessment analysis on the basis of facts, apart from experience only.
Rules and regulations
The core of the screening and assessment service, as presented, has carefully been developed in order to reflect all statutory regulations governing the STS Operations as well as the guidelines of international industry organisations and P&I Clubs. Those are reflected through IMO MEPC 186(59), IMO oil pollution manual section 1, prevention of Pollution, OCIMF/ICS latest guidelines,Ship to Ship Service Provider Management OCIMF latest edition and P&I club rules.
Sample and trial of a screening report
You are welcome to contact us in order to email you a sample of a screening report or even better to arrange a real screening report (on a trial basis) at an STS Operation with one of your vessels. The documents required for a screening report are both vessels Q88 or VPQ and preferably last class status and P&I entry certificate.