Introduction
Since 2011, DYNAMARINe has operated as an STS Assurance organisation. Roughly 220 different STS Organisations have been reported globally in various Ship to Ship Operations since then. Such companies were either established STS service providers, or local agents acting alone or on behalf of other organisations.
During the last 24 months, 78 STS Service Providers (or local agents) have appeared in STS Operations globally, through DYNAMARINe's STS Assurance scheme. These providers are presented in Table 1. Some of these providers have been audited by DYNAMARINe.
The Scope of the information presented herewith allows tanker owners, Cargo Owners and Charterers to receive an indication of the available STS Service Providers that Operate in various locations around the globe. DYNAMARINe is estimated to be involved in the assessment of about 30% of Global STS operations, therefore the information presented in table 1 is not exhaustive.
Statistic for December 2023
DYNAMARINe members and clients receive a benefit from having access to real time data for Ship to Ship in order to account for the likelihood when assessing the risk. Such data are verified for their consistency and are logged at OSIS.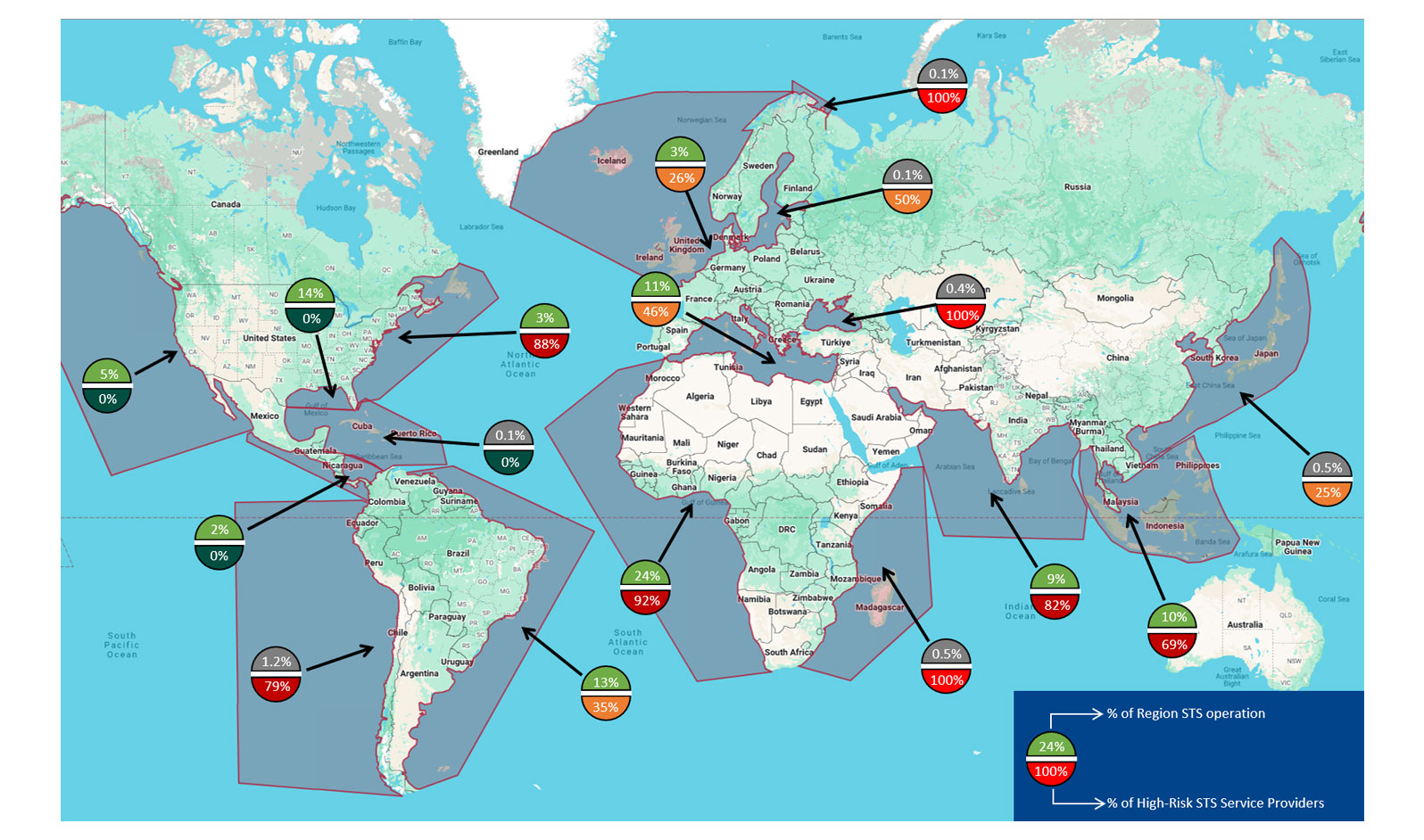 Working Together Towards Ensuring Safety
DYNAMARINe believes that the services rendered by STS Service Providers to possible candidate STS vessels are of paramount importance for the safety of each STS Operation. Tanker owners and STS Service providers who believe in continuous improvement contribute to OSIS, either with the provision of data or through audits
Post Feedback Assessment for the STS Service Prover provided by the Master.Upon completion of each STS Operation, the master reports a post feedback report back to DYNAMARINe, which entails part of the required recordkeeping. The accuracy of information is directly related to the accuracy of information rendered at the JPO from the STS Service Provider to the Master, inclusive last minute changes that may physically take place. After verification of the information, data are uploaded to the OSIS database. All assessed parties receive a summary report from Masters' post feedback
The accuracy of information is directly related to the accuracy of information rendered at the JPO from the STS Service Provider to the Master, inclusive last minute changes that may physically take place.
Information provided to the vessel prior to the operation by the STS Service Provider. The assessment takes place in line with industry best practices, consistency of information, reference to SMS processes, and originality of data produced
Transparency
Transparency is very important to ensure that all parties are assessed in the same way and in a fair and consistent manner. DYNAMARINe is not involved in commercial transactions and has no conflict of interest when undertaking such assessments.
Important Note
The data depicted in the following table are related only to the information assessed and reported by DYNAMARINe registered tanker operators during the last 24 months. Details on audited providers are shown on this link.
Table 1. Directory of STS Service Providers, Last updated December 2023
Table 1 presents information in the available STS Service providers that appeared at OSIS during the last 24 months. These firms consist of either local, regional or global organizations that deliver a Service to the Master of the Vessel, on behalf of the Charterer/ Cargo Owner. DYNAMARINe audits such organizations on behalf of Tanker Owners with criteria available from industry organisations.
Please contact DYNAMARINe at info@dynamarine.com for further information
How To Read the Information in Table 1
STS Service Provider is the corporate entity as it appears in the information received.
Audited means that this provider has been audited by DYNAMARINe on behalf of Tanker Owners. The audit presents observations related to safety and improvement actions are expected. For audited STS Service Providers, you may directly request the audit report from them
How can a STS Service Provider be shown in the list?
To be shown in the Directory any of the following actions may take place:
Your organization has to appear in an STS Post feedback assessment from a tanker owner registered at the STS assessment service of DYNAMARINe. Until OSIS receives 10 feedbacks within 24 months.
Request to utilize the post feedback assessment of DYNAMARINe at each STS Operation. This will allow your organization to appear within a month, with the first update of the directory.
You may request from DYNAMARINe to commence an audit process on your organization. This option will also allow for your organization to appear with the following monthly directory updates.
For above options 2 and 3, please contact DYNAMARINe at info(at)dynamarine.com
Disclaimer
The information included or referred in this page is intended solely for the use of the individual or entity to who has legitimate interest on Ship-to Ship transfer. The views, thoughts, and opinions expressed in this report belong solely to DYNAMARINe and are based on the facts and data included at OSIS. DYNAMARINe do not make any warranties about the completeness of the information displayed in this website. Any action you take upon the information on this report is strictly at your own risk, and we will not be liable for any losses and damages in connection with the information presented